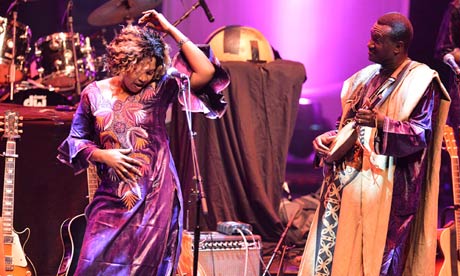 Can you imagine life without music? For the citizens of northern Mali this is not a hypothetical question. Islamist militants currently in control of northern Mali have declared a war on music, banning concerts, closing venues, smashing instruments and harassing musicians. Enough to make you want to reconsider whining about Ticketmaster charges. But why is this happening? In August, a militant group official stated, "We do not want Satan's music," and since then, militants have worked to exterminate music in every form. Despite the threat of violence, musicians from the area are not going to let them take their voice; they are directing the media attention to a much needed discussion on the human rights violations occurring.
Khaira Arby, a Malian vocalist known as "the Nightingale of the North" who performed at Bonnaroo last summer, reports that her studio in Timbuktu was destroyed by the religious police. Arby also stated, "They've said that when they capture me they will cut out my tongue."
Recently, a group of musicians in Mali have taken a stand and made a call for peace in their nation. Fatoumata Diawara, who recently performed at globalFEST in NYC (recording here), organized over 40 Malian musicians to record a song asking for the end of the conflict. Some of the lyrics of the song, titled "Mali-ko," say, "The time has come for us to speak up about the crisis in Mali. We, the artists, must now speak from the heart about what is happening to our Mali."
It looks like there are many musicians who are taking that call to action to heart. Over the weekend in London, the Barbican Centre hosted a Sahara Soul concert, which featured Bassekou Kouyate, Sidi Toure, and Tamkirest. Before the show, Toure told Reuters "There is just one message - peace. If you filled this room with gold and diamonds, it would not be more important than peace." The audience at that show seemed to agree; during the show, word got around that French troops in Mali had captured an important airport from the Islamist militants in the North, and the crowd erupted in cheers.
The nation has a rich musical history which can take credit for the roots of blues as we know it, and Grammy Award-winning Tinariwen and Grammy-nominated Amadou and Mariam. The West African nation has also been the home to the acclaimed Festival in the Desert. But at the Sahara Soul event, Kouyate told the audience, "Today Mali is different, because of terrorism by those who want to impose sharia; no music, no TV, no telephones, no democracy. This is no good."
We'll have to wait and see if Malians can come together and achieve the vision of these activist musicians.
In the meantime, if you want to support the exiled musicians, pick up the benefit album Songs for Desert Refugees.
http://www.youtube.com/watch?v=eUO66d8WvCY&noredirect=1